Make Up For Every Part Of The Day
Morning make up
Whether you're in a hurry or if you have enough time before you go to work, it is necessary a number of makeup products to use in a proper way in order to end up satisfied with your appearance. With this advices your morning makeup will help you look rested and fresh.
It is important to hydrate your skin and you never go to sleep without having previously cleansed your face from makeup. After cleaning, apply an appropriate moisturizer that will facilitate the application of make-up the next day and so you will not look tired and you will not have to spend twice as much time to cover shortfalls.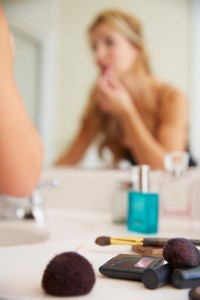 The best solution when you do not have much time for beautifying is the BB (Blemish Balm) cream that can serve as a foundation and thereby hide any imperfections and also provide the necessary amount of skin hydration.
You cannot start makeup without a proper concealer that will help hide dark circles and blemishes. If you have time makeup artists recommend blue eyeliner that will help hide the redness, and if blue too conspicuous color that does not suit your eye color, you can at the water line of the eye to put a brown eyeliner.
The biggest problem for many women is a tired look that is hard to avoid when you get up early in the morning. Here can help you eyelash curler, but if you have no time will serve mascara for curling. Curled eyelashes will look longer and you will have a rested look. If you want to achieve a fuller set of eyelashes and to avoid redness of the eyes, instead of blue or some other color, use a black eye pencil.
Let your cheeks are beautified with blush in cream and pink color will give a bit of freshness. Avoid dark-colored lipsticks and use balms or glosses in soft shades. Look from early morning as to be able to conquer the whole world.
Daily makeup
Whether it was a ceremonial or daily makeup, it is important to be perfect in order to achieve transformation that we like or just highlight the benefits of our face. In addition, that makeup must be of good quality, it also has to be properly applied.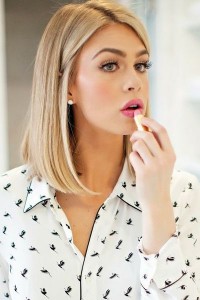 To be able to properly apply the makeup you need to know your face and know what color eyeshadow goes best with your eyes and which colors can be combined if you want to achieve a smoky effect.
Daily makeup unlike the evening and the ceremony makeup is not going to much on dramaticity and attracting attention, but to discreetly highlight the advantages and covering deficiencies on the face.
To make daily makeup perfect it is first necessary to apply a face moisturizer, followed by the base if you want your makeup to last longer. Some women just put the powder and that's fine. When applying powder, make sure that you have applied all over face and there are no visible traces between the neck and face.
The aim of the daily make-up is "the less the better" and therefore you should not exaggerated, with shades. It will be sufficient at most two different shades, and in addition, you should not forget the mascara thanks to which the lashes will get the required volume.
If you are pale and need a bit of freshness you can boost make up with a little blush in one of gentle and not so striking shades. At the end comes lips.
Although in the end it does not mean they are less important, and you can embellish them with lip gloss or balm in color. You can also put lipstick, but let it be in soft shades. It takes only to apply the desired gloss or lipstick and you're ready to shine.
Evening makeup
There are big differences when it comes to daytime and evening makeup.
Many people think that the main difference is that at the evening look seems to add more make-up, but this is misleading. The main role brings light and then make up.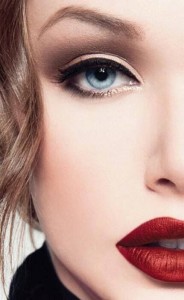 In the evening make-up is allowed to use more tones and apply more makeup. But all in moderate doses. For powder you decide to be a little denser texture. Apply it first on the forehead and nose, and then on the cheeks and the edges of the face while making sure not to arise a nasty, dark line between the face and neck.
In addition to evening look fit and concealer. Precisely apply it in the area of ​​dark circles and eyelid so the shadow could be more stable. If you are prone to oily skin, it would be advisable if you would on the T-zone, inflicted little loose powder to avoid unwanted shine later.
For eyeshadows you choose something with darker shades. You can combine multiple colors to make your eyes came to the fore. Use a pencil to replenish the edges of the eyes.
You will make your lips to look bigger, if you use a lip liner. Get the ones that are the color of your lipstick to make them more highlighted. Then fill in the lips by the end with lipstick and you're ready for a real night out.