Review Nuxe Rêve de Miel lip balm
This legendary lip balm, whose efficiency was proved in extremely adverse weather conditions in Canada, is richly nourishing and repairs dry and chapped lips. On his popularity speaks the fact that every minute one Rêve de Miel® Lip Balm is sold worldwide.
Balm is designed for very dry and damaged lips, and it is recommended to be applied every day, summer and winter – as long as it takes to recover your lips.
Effects on the skin
Damaged lips have been renovated – 96%,
The lips are fed – 82%
The lips are protected – 91%
Ingredients: Precious vegetable oils of Chilean rose, sweet almond and marigold oil extract, food, soften and regenerate chapped lips.
Honey from locust flower soothes and protects the hydro-lipid layer of the skin, while shea butter nourishes the skin making her softer.
Vitamin E has an antioxidant effect, against premature aging of the skin while grapefruit extract gives a sense of the incredible comfort during use.
Contains 80.2% ingredients of natural origin.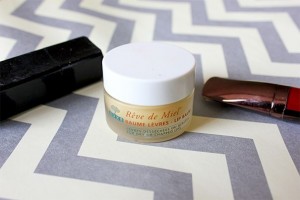 Balm comes in the familiar Nuxe box and contains a small, sweet jar with 15 grams of the product. As you can see the package itself is not fully charged, but only perhaps by half since it still contains only 15 grams, although I wish it was a lot more.
The smell is quite mild, sweet and pulls on the lemon and quite refreshing, with almost no taste.
Balm is with yellowish color in a jar is a hard, with dense texture that melts in contact with the fingers, here and there you can come across a lump in a balm, but she can easily be melted too. As regards the application – you'll still have to use your fingers, do not know how much it fits or not for you-It has not really mattered to me. Of course, there are some minuses that come with this method – such as fatty hands, harder gripping of the product when you're at the end of the jar…
As I said, balm melts under your fingers and the texture becomes slightly creamy, and leaves a soft reflection on the lips. It is primarily intended for very dry and damaged lips, which mine are not yet, but, who will resist trying out Nuxe if you already have a chance?
So for me this lip balm was solid, the lips are soft, with soft reflection, honey luckily is not really finds out because I'm not a big fan of his scent.
You can not put it in the day or in a little thicker layer before you go to sleep, I know that some place this balm and under some lipstick or lip gloss, for me personally, it simply does not like – I don't like to apply over 50 things to my lips or face, or mix things – especially those which should have some regenerative capacity.
Lasts longer on the lips when comparing to other balsams, and with the soft feel and slightly refreshing effect you not need every half hour to dig through your purse and apply balm again… and again… which is certainly not good. Also, the base weight of 15 grams lasts quite a long time.
Finally, I would recommend this lip balm to anybody because when you compare the price and the product you receive for that price (I have bought this sample from Amazon) you receive really top quality lip balm.