Top 3 Micellar Waters Review
Cleaning the sensitive skin of the face is the first and indispensable step to achieve ideal skin. In order to better understand the expectations of women when it comes to cleaning sensitive facial skin, various studies point to three key issues:
Cleaning is more than "just skin cleansing". For women it is a key step in their routine care, which is a source of beautiful, healthy and perfect skin.
Needs are changing from day to day, depending on the daily life. In the morning and in the evening, women choose their products for cleansing according to their needs of that day: from the fast solution for removing make-up until the moment of enjoyment with deep cleansing of the skin from pollution, dead cells and sebum, when they feel that their skin is affected by the harmful effects of the environment.
Cleaning the skin is a sensory experience. Women are constantly looking for cleaning products that provide a feeling of comfort in use. They highly appreciate the moment when they devote to their skin and give her a feeling of comfort and pleasure in usual rapid and exhausting daily schedule.
In the last 10 years, micellar solutions have taken over the routine cleaning of many girls and women. I remember when they first appeared, as they were called miraculous liquid and there was not such a great choice on the market. Today, almost there is no brand that has not introduced its version of micellar solutions. When I first tried way of cleansing face with micellar liquid, I immediately accepted it in my routine and tried various versions, and today I bring you comparison of three high quality micellar liquids.
To begin with, do you in fact know what micellar solutions are?
Micellar come to us from France, where experts invented a product for facial cleansing which is designed as a tool to remove the entire makeup and impurities, from the eyes to further without additional cleansing. Universal product that replaces the classic milk, lotions, gels and soaps, without irritation, redness, for all skin types, especially sensitive. The technology is based on molecules called micelle, esters of fatty acids which binds fat with themselves and after that completely removed her, without having to dry the skin.
To who are micellar water intended for: special emphasis is on dry and sensitive skin that reacts to water and aggressive cleaning agents, but today there are micellar designed specifically for oily and problematic skin.
How to use micellar solution: the process is very simple, wet pad is soaked in micellar solution and gently with her is wiped face and neck, including the eyes. After using washing is not needed.
Cleaning the makeup from the eyes: many micellar I have tried do not remove just in one stroke mascara and makeup from the eyes. A great trick is a slightly damp pad soaked with a little micellar solution and kept over the eyes for a minute or two. In this way, indeed in two strokes you will remove all makeup from your eyes.
Facts about Micellar Solutions
Almost all micellar solutions can dry out skin, some slightly, some very so do not forget on hydration after their use.
Almost all micellar solutions can irritate the eyes, so be careful not to enter the eye.
If you want to know what to do with micellar solution which irritate an/or do not clean well,the simplest solution is to use her for cleaning makeup brushes and sponges.
I think now it is time to start my recension and I will start with
NUXE Micellar Cleansing Water with Rose Petals for Sensitive Skin
Nowadays, when every moment of free time is precious, for most women is extremely important that cosmetic products are easy and quick to use. One such product is just NUXE micellar water with Rose Petals for Sensitive Skin that in one go cleans the face, eyes and lips of impurities and makeup. This micellar solution does not wash nor any additional cleaning products for the skin are needed.
What will inspire many women is a gentle rose fragrance that is fully consistent with pink packaging of the product.
The smell is quite subtle and not stay on the skin, it is important to note if you do not like the smells in cleaning products. The smell of roses comes from the Damask rose that with ultra-soft micelle of coconut effectively removes all dirt and makeup.
When removing makeup with micellar water, it is very important not to skimp on the product.
In fact, many women soak a cotton pad with too little of the molecular product and then makeup is not removed thoroughly,so it can be very disappointing. In the beginning, it took me three pads in order to completely remove makeup, until I discovered a simple trick with which I can save the product, and thoroughly remove makeup. Namely, first I spray cotton pad with thermal or plain water, then I put micellar cleansing water and placed the cotton pad upon the eyelid for about 15-20 seconds. Much like when removing makeup of oil products.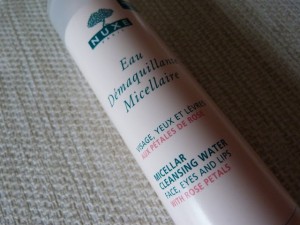 Product colour is slightly yellowish which makes me quite surprised because I have so far used to completely clear micellar fluids.The feeling after the removal of is a clean and fresh skin. Behind Nuxe micellar solution I haven't noticed a feeling of dryness. Contains 97% ingredients of natural origin.
I can say that I am satisfied with this product. I recommend it to women who have dry and sensitive skin and eyes, like the smell of roses, and gently remove of make-up. The product does not dry out and do not tighten the skin.
For more helpful reviews of customers who use this product you can read here — NUXE Micellar.
The next is
Avene Micellar lotion / Cleanser and make-up remover
Although I am a person who is constantly trying different types of cosmetics, Avene Micellar Lotion is a something which until a few months ago, I had no chance to try it. With Avene as cosmetic company, I think we are all more or less familiar. Recommended by many dermatologists and experts, I believe that each of us has a favourite product from Avene.
I have used it absolutely for removing everything: mascara, makeup, dirt… when I needed additional calming of my face because it has a really beneficial effect on the skin. The texture is a completely transparent like to the majority of micellar solutions and has that one specific Avenesmell.When removing mascara, especially if you use a waterproof, it is necessary to cross the pad several times per eyelids, very gently. Namely, when removing around eye makeup, it is very important that the skin around the eyes is not overly stretched.With this micellar solution, you will need a couple of gentle moves to complete purity. After use, skin is extremely soft, fresh and perfectly clean. There is no need for washing nor special toning.The skin is ready for further treatment (serum, cream, fluid…).
Aven Micellar Lotion is designed for every type of skin especially sensitive one. It is very gentle, excellent removes impurities and non-irritating. The disadvantage is a poorly removing of waterproof makeup and somewhat higher prices compared to its competitors, but I forgive because it is really beneficial for the skin.
If you want to read what others think about this micellar solution read this — Avene Micellar.
And finally I came to my favourite
Bioderma Sensibio H2O micelle solution
As I mentioned one of my favourite products when we speak about micellar lotions. Sensibio H2O is a mild solution for daily basis cleaning of extremely sensitive facial skin and removing makeup. It contains micelles of fatty acid esters which in turn attract and excellent remove dirt. Mild ingredient solution calming and mitigate increased sensitivity, burning sensation and tension and maintain optimal hydrolipidic balance of the skin. It is intended for cleaning of sensitive and reactive skin.
This is for me the ideal micelle. Excellent removes makeup (including waterproof mascara and gel liner) in a few moves. What I especially like is it does not dry out the skin at all and leaves no sticky / slimy feeling on the skin after which I had a desire to wash it, but just the feeling of clean skin. In addition, it is suitable for my sensitive eyes, which makes it a product that I will use it for a long time.
Of course, if you need more info you can find it here — Bioderma Sensibio micelle.
So now when you know my favourite among these great micellar solutions as the best ratio of price / performance / volumes, I would like to know do you use micellar fluids? Do you have your favourite?
Maybe you also have tried two or all of them so what is your opinion?