Beauty Advices That Are Worth Knowing
Burn from electric curler or iron for hair? It can happen to all of us sometimes. A cold compress will be exceptionally pleasant for you, after which is good to put a little honey on the skin. Honey has anti-inflammatory properties, and is a good disinfectant. He will calm and soothe this kind of burn before the burned skin changes color.
If you have left a bit of lipstick in a box that you cannot use it, do not drop it! Remove it with some stick or spoon (you can use a plastic spoon for espresso coffee from coffee bars), and put it in a clean plastic container with a lid. Add a little cocoa butter or simple vaseline and you will get a new lip balm in color.
Use appropriate camouflage for dark circles. Since the blue and orange colors are from opposite sides of the circular palette color palette, they neutralize each other the best. In the bluish color of the skin around the eyes, apply a little orange color before you place your concealer. This can be a blush of peach or brick color or some corresponding color of eye shadow.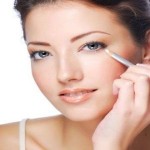 Clean pores at least once a week. Wash it so that you rinse your face at least twenty times with lukewarm water you engulfed with slightly soapy hands of some milder (best children) hard soap for the face. After this, rinse your face ten times with a cool, clean water. This will soften the skin and cleanse pores.
Always keep and a waterproof mascara. If you're in a hurry, use it, because the waterproof mascara dry faster than ordinary.
Before pulling out eyebrows slightly shorten them with small scissors and apply to them a colorless mascara. In this way it will be easier for you to shape the hairs to the desired shape, and also you will better know which hair has to go out.
Brushes you use for makeup regularly wash with some shampoo that is designed to remove fats and the remaining ingredients from the hair (these are generally those shampoos which are indicated by clarifying).
Before applying lipstick, it is best around your lips to rub a drop of liquid foundation, and then accurately draw a line with some soft, not so greasy eyebrow pencil for lips that is a shade lighter than the lipstick.
Regularly change the pillowcases. Changing pillow cover once a week can prevent the fat from your hair to transfer to the face and cause pimples or rashes. Pillowcases from silk and other natural materials are better because they do not "crowd" the facial skin and less influence on the formation of wrinkles.
If you use hair gel, it is always better first to spray a bit of conditioner spray, because a gel can dry hair a lot. So you will keep to minimum damaging to your hair, and she will be softer too.
If you often need to refresh haircuts between two washings, get some shampoo for dry hair washing and electric hair dryer, which has continuation in the form of brushes. When spraying some shampoo spray for dry washing, and then pass through the hair with a round brush through, which is a stream of warm air, you will remove excess preparations you have accumulated in your hair, and she will be also straighten a little bit.
When you attach artificial eyelashes, be sure to apply glue on false lashes, not the eyelid. When you spread glue on the lashes in a thin line and thin layers, always wait at least 20 seconds before you paste the eyelashes, how they should not shifted and slipped.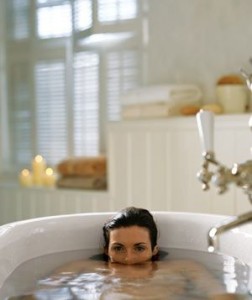 A bath for relaxation, for a smooth and softer skin easily can be made by yourself. Mix sea salt, milk powder and baking soda and insert this mixture into the bathtub with water.
Do not forget to protect your lips from the sun. Most lip gloss is made from fat that attract sunrays and burn your skin in the sun. Use a balsam for lips with SPF or apply some cream with SPF on them.
If you want your lips to apply discreetly, to look natural, but still seductive, opt for an extremely modern variant called nude lips. This will be achieved by applying a little concealer on the lips, and then poses with lip gloss in color of white coffee. This is the right choice for makeup of lips if you emphasize your eyes, because it goes with every color of the shadows and blushes.
To appease the dry skin and eczema, it is best to use cold pressed castor and olive oil.
To achieve the natural look of the skin and minimize the burden of makeup, using a small sponge applicator to apply liquid or powder foundation. It is best if you first soak sponge in water, drain it well and then soaked in liquid foundation. Of the absorbed water, the sponge will not be able to absorb so much excess powder.
Instead of lipstick, you can always use eye shadow or blush that you will stir in a little lip gloss.